鳥羽ストーリーズ・アートプロジェクト「安楽島」2019
Toba Stories Art Project in Arashima
Important News: The exhibition of Toba Stories Art Project in Arashima has come to a close.
However artworks can still be viewed in the area even after the exhibition period is over.

In order to store some artworks safely to maintain their condition, artworks on the map numbered 3, 5, 6, 9(part) have been moved to be stored inside the building of exhibition location 5: Arashima Kindergarten (can be viewed from the windows). Other artworks remain in their original locations, and can still be viewed (except part of exhibit 9 is only on view at the times of the Morning Market).

In late 2020, this art project will be developed into a new exhibition including new works and existing works.
We hope you will look forward to that time!!!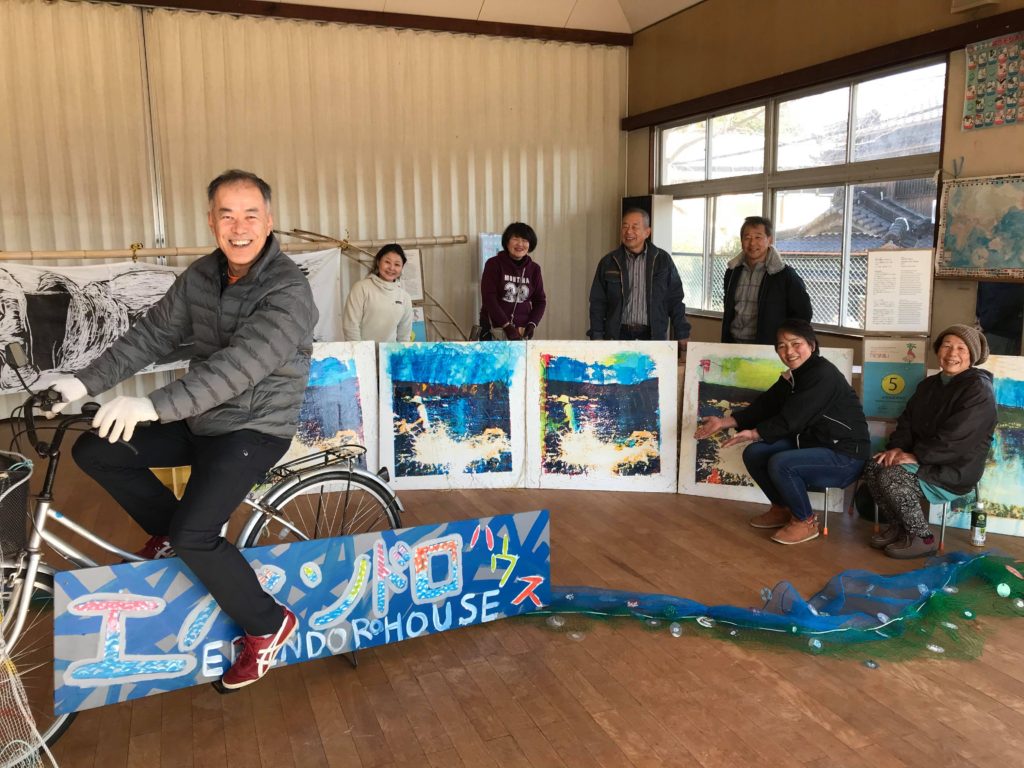 お知らせです。
鳥羽ストーリーズ・アートプロジェクト「安楽島」の展示は終了致します。
展示期間外でも作品をみれるようにしました。これからもよろしくお願いします。
アート作品を末永く大切に展示していくために、マップの3、5、9 (一部)の作品については、5. 旧安楽島保育所の屋内(屋内には入れません、窓越しになります)に展示場所を一時的に変更します。その他の作品については、今までと同じ場所で展示し、(注意、9の一部は朝市開催日の展示)見学することができます。
今年の秋にアートプロジェクトを発展させ、現在の作品と新しい作品を展示する予定です。お楽しみに!!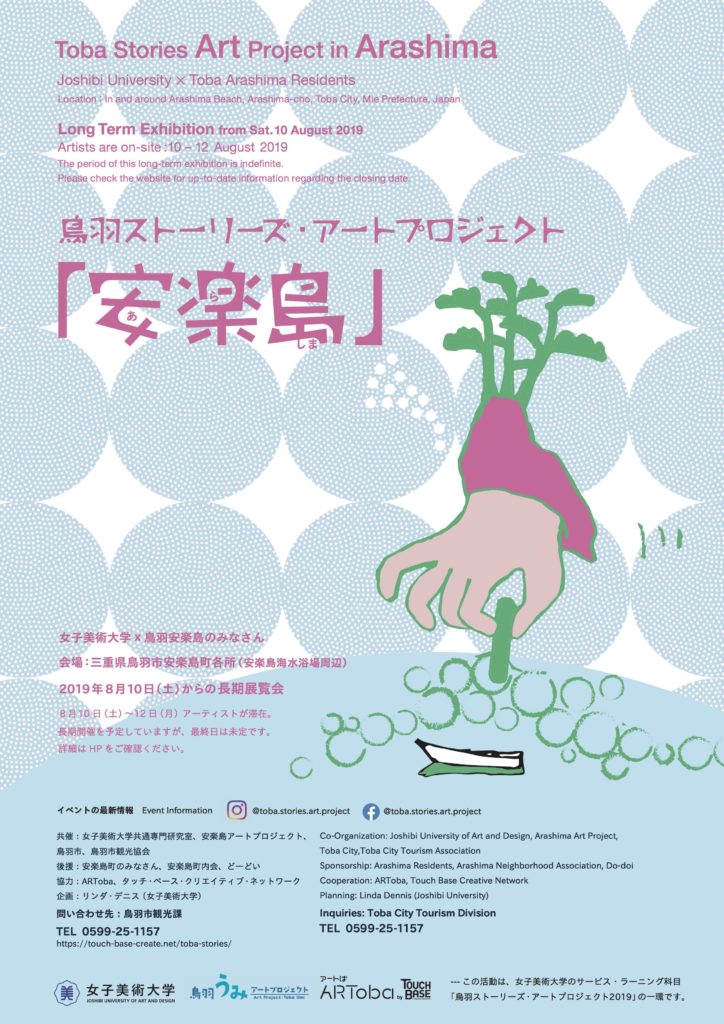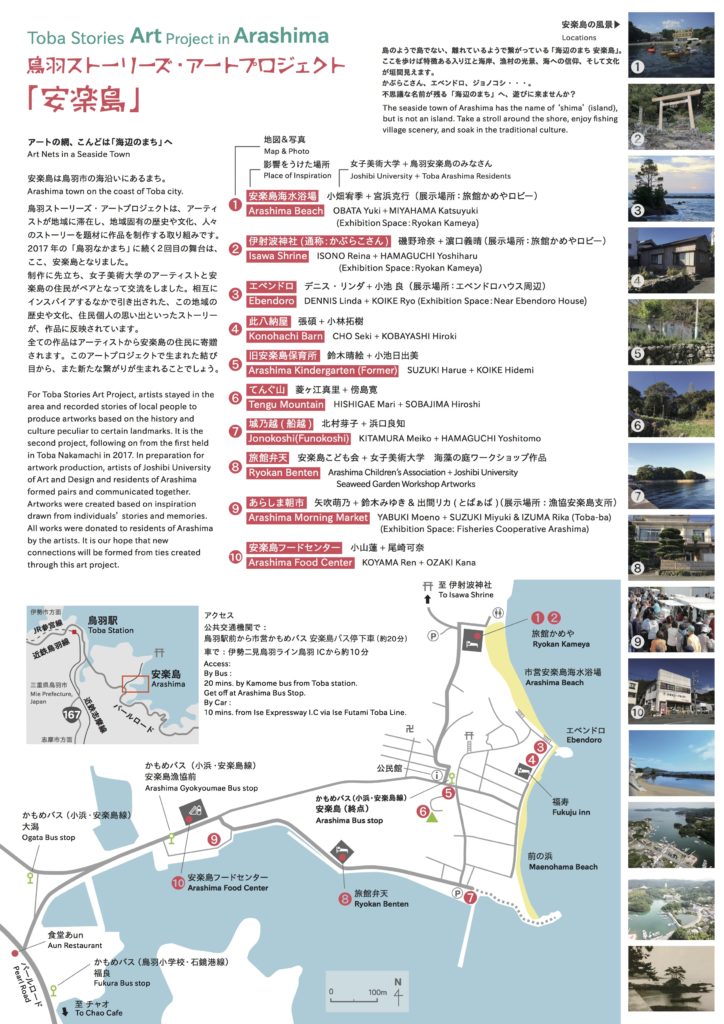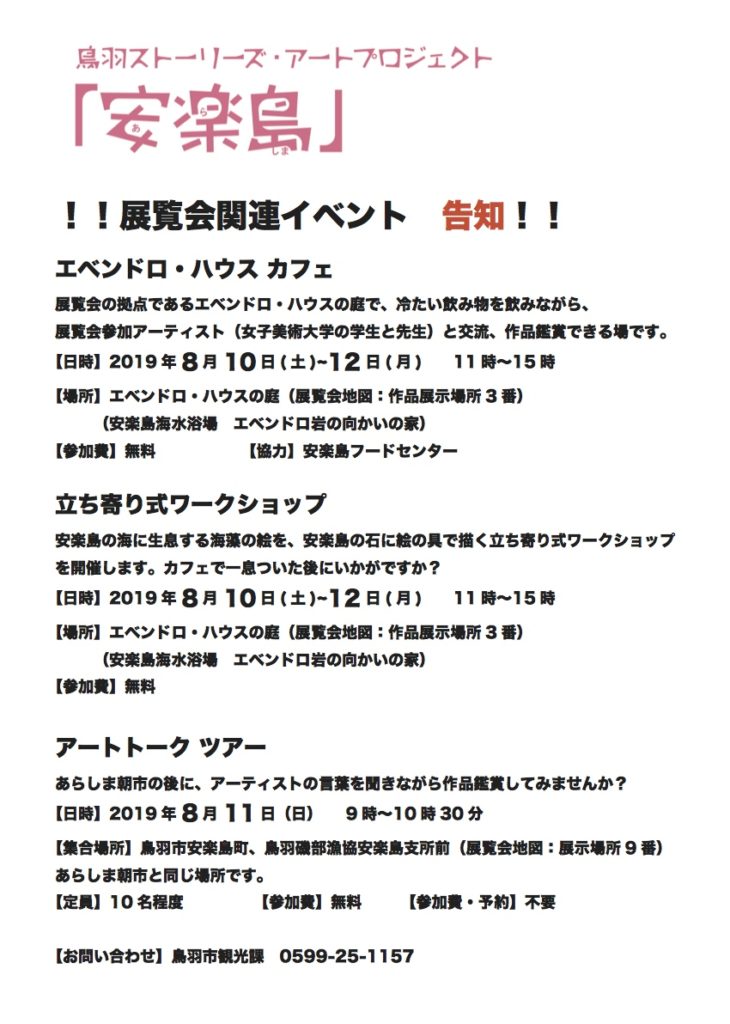 鳥羽ストーリーズ・アートプロジェクト「安楽島」2019
8 月 10 日(土)~12 日(月)アーティストが滞在。
長期開催を予定していますが、最終日は未定です。
女子美術大学 x 鳥羽安楽島のみなさん
会場:三重県鳥羽市安楽島町各所(安楽島海水浴場周辺)
Toba Stories Art Project in Arashima
Joshibi University × Toba Arashima Residents
Location : In and around Arashima Beach, Arashima-cho, Toba City, Mie Prefecture, Japan
Artists are on-site :10 – 12 August 2019
The period of this long-term exhibition is indefinite.

イベントの最新情報 Event Information
Facebook: @toba.stories.art.project
Instagram: @toba.stories.art.project
共催:女子美術大学共通専門研究室、安楽島アートプロジェクト、 鳥羽市、鳥羽市観光協会
後援:安楽島町のみなさん、安楽島町内会、どーどい
協力:ARToba、タッチ・ベース・クリエイティブ・ネットワーク
企画:リンダ・デニス(女子美術大学)
問い合わせ先:鳥羽市観光課

TEL 0599-25-1157
Co-Organization: Joshibi University of Art and Design, Arashima Art Project, Toba City,Toba City Tourism Association

Sponsorship: Arashima Residents, Arashima Neighborhood Association, Do-doi
Cooperation: ARToba, Touch Base Creative Network
Planning: Linda Dennis (Joshibi University)
Inquiries: Toba City Tourism Division
TEL 0599-25-1157