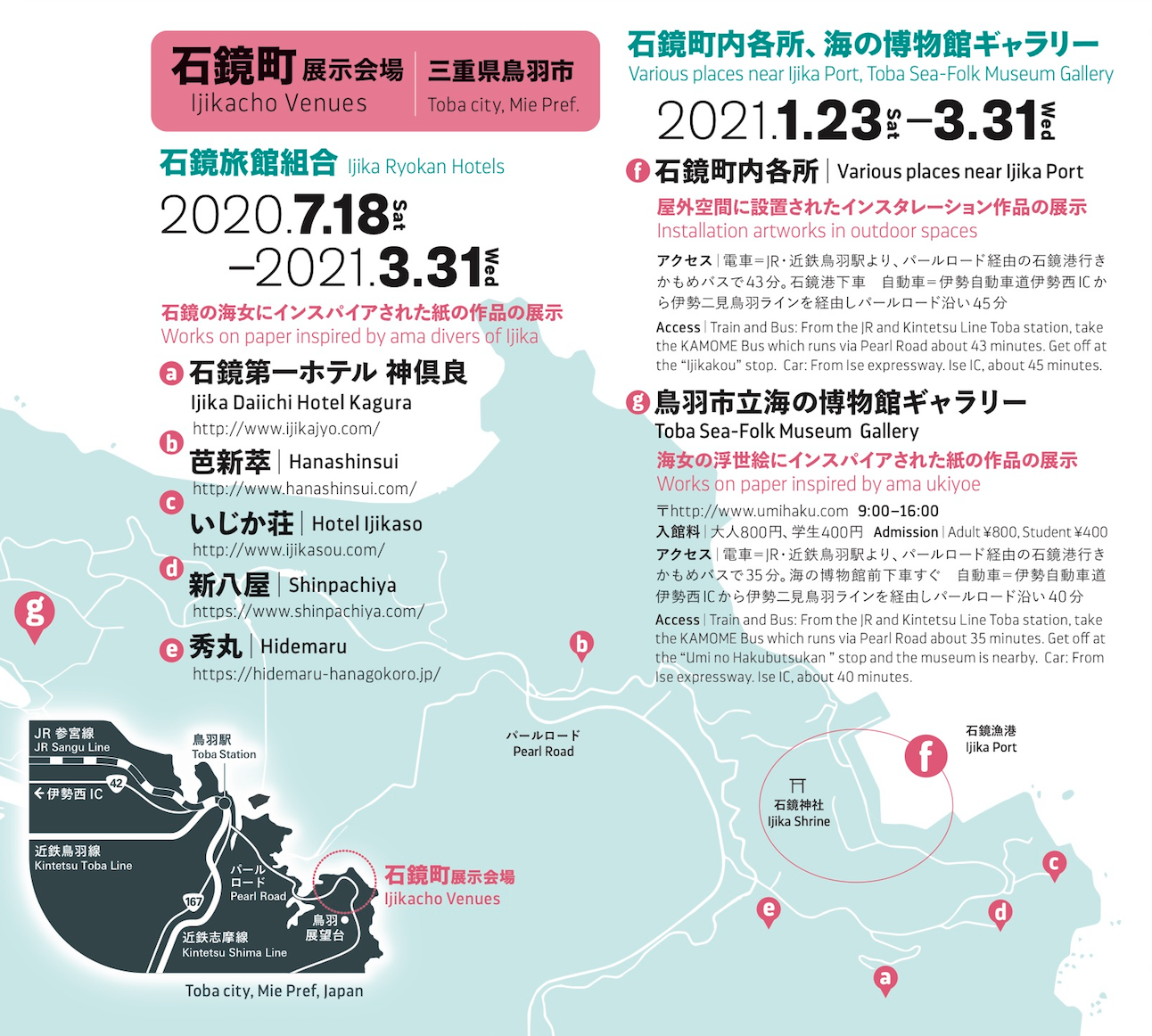 展示会場:石鏡旅館、海の博物館ギャラリー、と石鏡漁港周辺
Exhibitions in Ijika ryokan hotels, Toba Sea-Folk Museum Gallery, and various places near Ijika Port.

石鏡の海女にインスパイヤされた平面作品展示です。
Works on paper inspired by ama divers of Ijika.
石鏡旅館組合 Ijika Ryokan Hotels:
石鏡第一ホテル(IJIKA DAIICHI HOTEL KAGURA)
Artworks by Zoe PORTER & KITAMURA Meiko
ゾイ・ポーターと北村芽子の作品展示
いじか荘(HOTEL IJIKASO)
Artworks by INAGAKI Miyuki
稲垣 美侑作品展示
芭新萃(HANASHINSUI)
Artworks by OGINO Yuna
荻野夕奈作品展示
新八屋(SHINPACHIYA)
Artworks by Linda DENNIS
リンダ・デニス作品展示
秀丸(HIDEMARU)
Artworks by ONO Aiko
大野愛子作品展示
https://hidemaru-hanagokoro.jp/


野外空間に設置されたインスタレーションアート作品展示です。
Installation Artworks in outdoor spaces.

参加アーティスト6人の海女の浮世絵にインスパイヤされた平面作品展示です。
An exhibition by 6 artists of works on paper inspired by ama ukiyoe.
鳥羽市立海の博物館ギャラリー Toba Sea-Folk Museum Gallery
http://www.umihaku.com
住所:三重県鳥羽市浦村町大吉1731-68 TEL:0599-32-6006
1731-68 Ogitsu Uramura-cho Toba-city Mie-pref. Japan 517-0025
アクセス:電車の場合  JR・近鉄鳥羽駅より、パールロード経由の石鏡港行きかもめバスで35分。海の博物館前下車すぐ
自動車の場合 伊勢自動車道伊勢西ICから伊勢二見鳥羽ラインを経由しパールロード沿い40分
【Access】Train and Bus: From the JR and Kintetsu Line Toba station, take the KAMOME Bus which runs via Pearl Road about 35 minutes. Get off at the "Umi no Hakubutsukan" stop and the museum is nearby.
Car: From Ise expressway.Ise IC,about 40 minutes