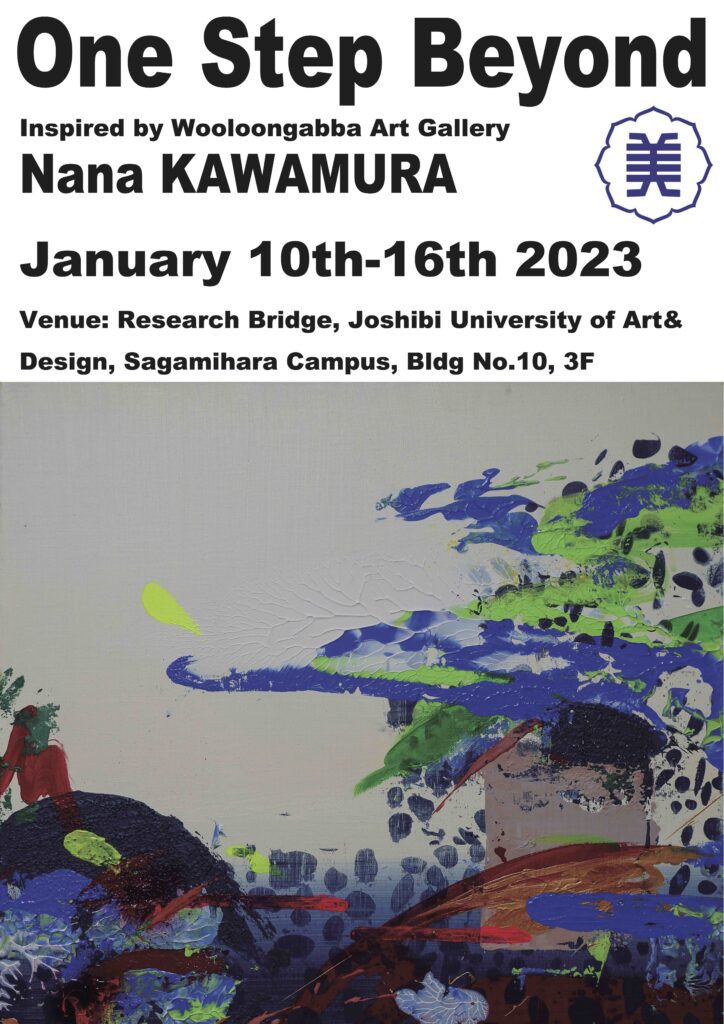 Nana KAWAMURA Exhibition: One Step Beyond"
2023年1月10日(火)-16日(月)
会場:リサーチ・ブリッジ、女子美術大学相模原キャンパス10号館3階
本展の作品は、女子美術大学を昨年卒業した河村菜々が2022年8月22日から30日にかけてオーストラリアをクリエイティブ・リサーチをしたことを受けて制作されたものです。その際、彼女はブリスベン、ゴールドコースト、ストラドブローク島に滞在しました。
アーティスト・ステートメント
オーストラリアで過ごした9日間のすべてが、私にとってかけがえのない経験になりました。
特にブリスベンのWoolloongabba Art Gallery や Griffith Universityで出会った現地のアーティストと交流できたことは、制作に対する向き合い方の転機になりました。
現地で出会った人々からたくさん支えられ気づいたのは、恐れず何事にも挑戦すること。
成功や失敗など結果がどうであれ、一歩踏み出さないと見えない景色や出会いがあるのです。
ブリスベンのアーティストたちの暖かい歓迎に感謝します。
ロバート・マーサー
アレクス・ショウ
ダイドウ・カズミ
ビアンカ・ビーツォン
モーリーン・ハンセン
エリザベス・ショウ
ジョナサン・ツェー
ワタナベ・ケイ
リンダ・デニス
https://nanakawamura.myportfolio.com
https://www.instagram.com/7kawamura/
Nana KAWAMURA Exhibition: One Step Beyond"
Exhibition Period: 10 – 16 Jan, 2023. Hours: 9am to 8pm. Last day until 5pm
Venue: Research Bridge, Joshibi University of Art & Design, Sagamihara Campus, Bldg No. 10, 3F
The artworks in this exhibition were created in response to recent Joshibi University graduate Nana KAWAMURA's creative research trip to Australia from 22 – 30 August 2022. At that time she spent time in Brisbane, the Gold Coast, and Stradbroke Island.
Artist Statement
Everything about the 9 days I spent in Australia was a great experience for me.
The support I received from Aussies I met made me realize that I should not be afraid to try anything.
In particular, the opportunity to interact with many artists at the Woolloongabba art gallery and Griffith University was a turning point for my approach to artworks.
Whether you succeed or fail, there is a good view and wonderful encounter that you can only get if you take the one step beyond.
Special thanks to the artists of Brisbane for their warm welcome.
Robert Mercer
Alex Shaw
Kazumi Daido
Bianca Beetson
Maureen Hansen
Elizabeth Shaw
Jonathan Tse
Kay Watanabe
Linda Dennis
https://nanakawamura.myportfolio.com
https://www.instagram.com/7kawamura/