展覧会:遠くから見た安楽島
会場:鳥羽国際ホテル
2022年1月5日(水)〜14日(金)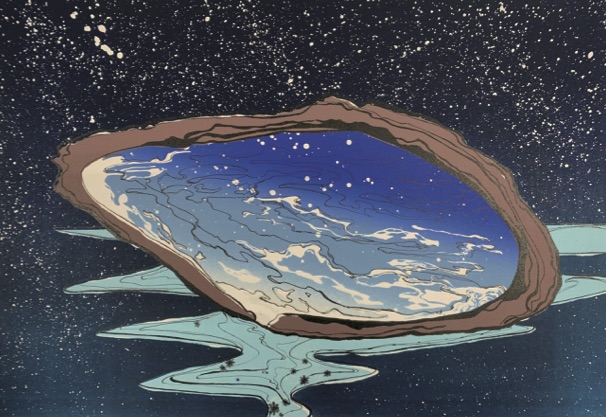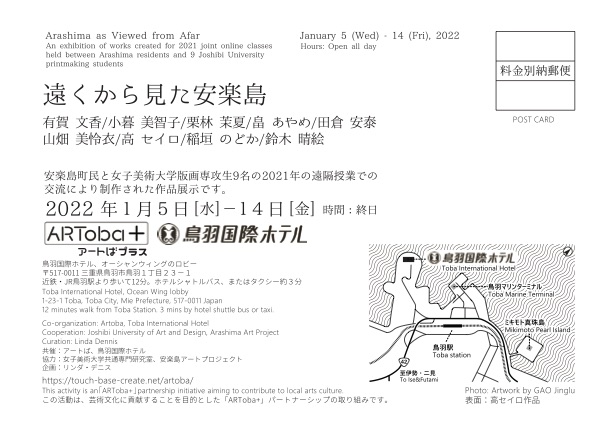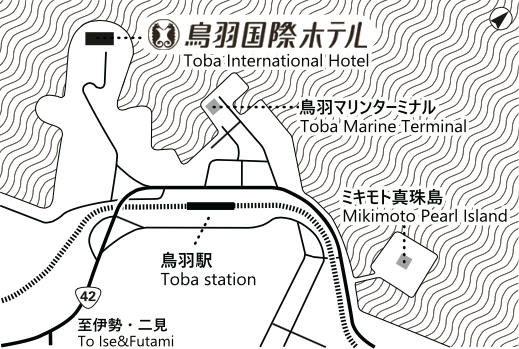 Exhibition: Arashima as Viewed from Afar
An exhibition of works created for 2021 joint online classes held between Arashima residents and 9 Joshibi University printmaking students
ARUGA Ayaka / KOGURE Michiko / KURIBAYASHI Manatsu / HATA Ayame / TAKURA Tai
YAMAHATA Mirei / GAO JingLu / INAGAKI Nodoka / SUZUKI Harue
January 5(Wed) – 14 (Fri), 2022
Hours: Open all day
Venue: TOBA INTERNATIONAL HOTEL, Ocean Wing lobby
1-23-1 Toba, Toba City, Mie Prefecture, 517-0011 Japan
12 minutes walk from Toba Station. 3 mins by hotel shuttle bus or taxi.
安楽島町民と女子美術大学版画専攻生9名の2021年の遠隔授業での交流により制作された作品展示です。
有賀 文香 / 小暮 美智子 / 栗林 茉夏 / 畠 あやめ / 田倉 安泰
山畑 美怜衣 / 高 セイロ / 稲垣 のどか / 鈴木晴絵
2022年1月5日(水)〜14日(金)
時間:終日
会場:鳥羽国際ホテル、オーシャンウィングのロビー
〒517-0011 三重県鳥羽市鳥羽1丁目23−1
近鉄・JR鳥羽駅より歩いて12分。ホテルシャトルバスまたはタクシ約3分
共催:アートば、鳥羽国際ホテル
協力:女子美術大学共通専門研究室、安楽島アートプロジェクト
企画:リンダ・デニス
この活動は、芸術文化に貢献することを目的とした「ARToba+」パートナーシップの取り組みです。
DM表面:高セイロ作品
Co-organization: Artoba, Toba International Hotel
Cooperation: Joshibi University of Art and Design, Arashima Art Project
Curation: Linda Dennis
This activity is an「ARToba+」partnership initiative aiming to contribute to local arts culture.
Photo: Artwork by GAO Jinglu