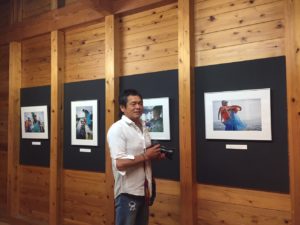 Born and lives in Ise City, Mie Prefecture, Japan.
Since moving from the world of performing arts and architecture in 1987, to become a freelance photographer, he shoots photos for publications such as "Isebito", "Tabi no Techo", "NAGI".
He also regularly shoots annual festivals of the Ise Grand Shrine, and as his lifework he shoots festivals of fishing villages and mountain villages. He holds exhibitions at Toba Sea-Folk Museum and other venues. He directs and appears in the program "Landscape" for ZTV cable TV. His photographs are published in photo books, including "Hareyaka na jizoku he" published by Getto-sha.
阪本博文(Sakamoto Hakubun)
伊勢市生まれ、在住。
舞台や建築への興味から写真の世界へ
1987年にフリーカメラマンとして独立以来、雑誌『伊勢人』『旅の手帖』『NAGI』等の取材撮影をする。伊勢神宮式年遷宮諸祭の撮影他、ライフワークとして漁村・山村の民俗・祭りを追いかけ、海の博物館などで個展を開催。地元局ZTVの番組「ランドスケープ」で各地を紹介。写真集に『晴れやかな持続へ』(月兎舎)等。