鳥羽ストーリーズ・アートプロジェクト報告展示(日本語は以下)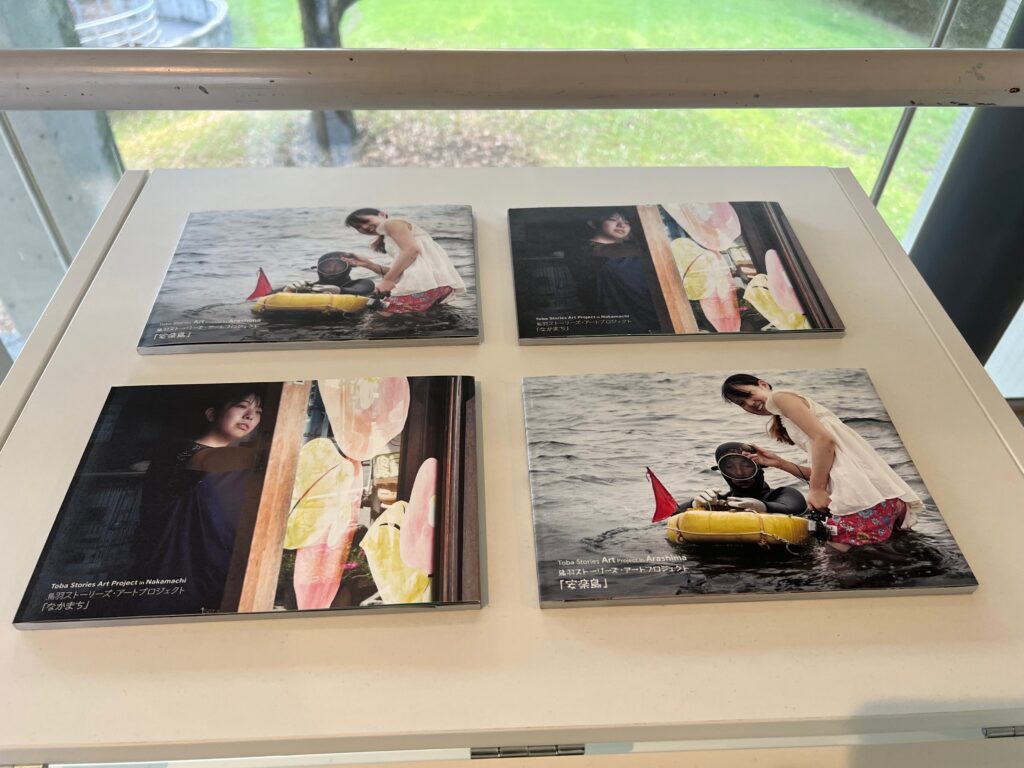 Exhibition Period:3 Oct – 22 Nov 2022
This exhibition contains documentation of two art projects held in Toba City between Joshibi University students and town residents. They were conducted as part of "Service Learning" subjects that aim at learning to live in harmony with society through art and design, while utilizing the expertise of an art university. Students listened to the stories of the people of Toba city and created pieces of work based on the inspiration from these.
"TOUCH" was chosen as a research theme, with subthemes of connection, communication, collaboration, and community. Relationships between people, and people and the world were important considerations.
Pre-trip classes were held at the Sagamihara campus to learn about the area. Then on their first trip, each student was paired with a local resident and conducted interviews and other on-site research. After returning to campus, they worked to create artworks. Students then travelled to Toba once more to set up an exhibition and hold other community activities.
We would like to express our gratitude to all those who have contributed to this exhibition.
Project 1 (2017):
Toba Stories Art Project in Nakamachi
Location: Various locations in Toba 4-chome, Toba City, Mie Prefecture, Japan
Project 2 (2019):
Toba Stories Art Project in Arashima
Location: In and around Arashima Beach, Arashima-cho, Toba City, Mie Prefecture, Japan
Joshibi University of Art and Design
Subject: Service Learning
Faculty: Prof Linda DENNIS
Students: 3rd year undergraduate students and above.
鳥羽ストーリーズ・アートプロジェクト報告展示
展示期間:2022年10月3日(月)〜11月22日(火)
本展示は、鳥羽市で行った、女子美術大学の学生と鳥羽市民が参加した2つのアートプロジェクトのドキュメントするものです。美術大学としての専門性を活かしながら、アートとデザインを通して社会との共生をめざす学習を目的としたサービス・ ラーニング科目で行いました。学⽣が⿃羽の人のストーリーを聞いて、そして、ストーリーから得たインスピレーションを元にして、作品を作 りました。
リサーチ・テーマは、"タッチ"。人と人との関係、人と世界の関係。 〈コネクション(つながり)〉〈コミュニケーション(意思疎通)〉〈コラボレーション(協働)〉そして〈コミュニティー(共同 体)〉は、重要な要素です。
事前授業は、相模原キャンパスで行われ、地域について学びました。ゴルデンウィーク研修では、学生一人ひとりが市民とペアを組み、インタビューなどの現地調査を行いました。その後、キャンパスに戻り、作品制作に取り組みました。その後、学生はもう一度鳥羽を訪れ、展覧会の設営などの地域活動を行いました。
この展覧会にご協力いただいたすべての方々に感謝いたします。
プロジェクト1(2017年)
鳥羽ストーリーズ・アートプロジェクト「なかまち」
場所:三重県鳥羽市鳥羽4丁目各地
プロジェクト2(2019年)
鳥羽ストーリーズ・アートプロジェクト「安楽島」
場所:三重県鳥羽市安楽島町各所(安楽島海水浴場周辺)
女子美術大学
科目:サービス・ラーニング
担当教員:Linda DENNIS
対象学生:学部3年生〜大学院生